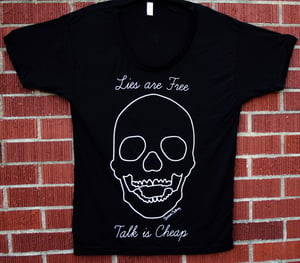 $

20.00
Everyone likes to be sassy, bossy, and tell a few lies once in awhile. Make a statement in this black oversized American Apparel shirt that features a large skull and the phrase "Lies Are Free, Talk Is Cheap" in an elegant but edgy font.
This shirt is made to have a larger fit and hang lower in the front or off one shoulder. The material is very light, thin, and is normally worn over tank tops.
It only comes in two sizes, Small/Medium (+1) & Large/XL (+2)
Depending on your size or how baggy you want the shirt is the way you order.
Printed on a Black AA Viscose Shirt. with White font.
This shirt is 100% Viscose.
Available in +1 (Small/Medium) & +2 (Large/XLarge)