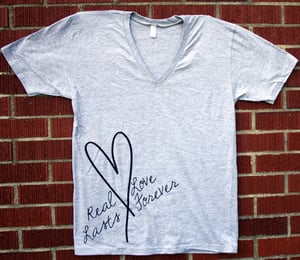 $

20.00
Everyone has a soul mate and when they find that person it is real, perfect, and lasts forever. It is a relationship full of spark, romance, and love. A relationship that goes through hard times, sad times, and amazing times but no matter what, will fight through it until the end. It doesn't last a week, a month, a year, it lasts forever.
This shirt was inspired by a couple that have a real love that will last forever. It was made as a reminder to them, you, and I that you will find that certain someone who you will spend the rest of your life with, some people just find them sooner than others.
Let everyone know that you believe in real love while wearing this AA heather gray v-neck featuring a black handwriting font and scribbled heart.
Printed on a Heather Gray American Apparel V-Neck with black font.
This shirt is 90% combed cotton & 10% Polyester.
Available in Small & Medium
SOLD OUT IN SMALL, LARGE & XLARGE